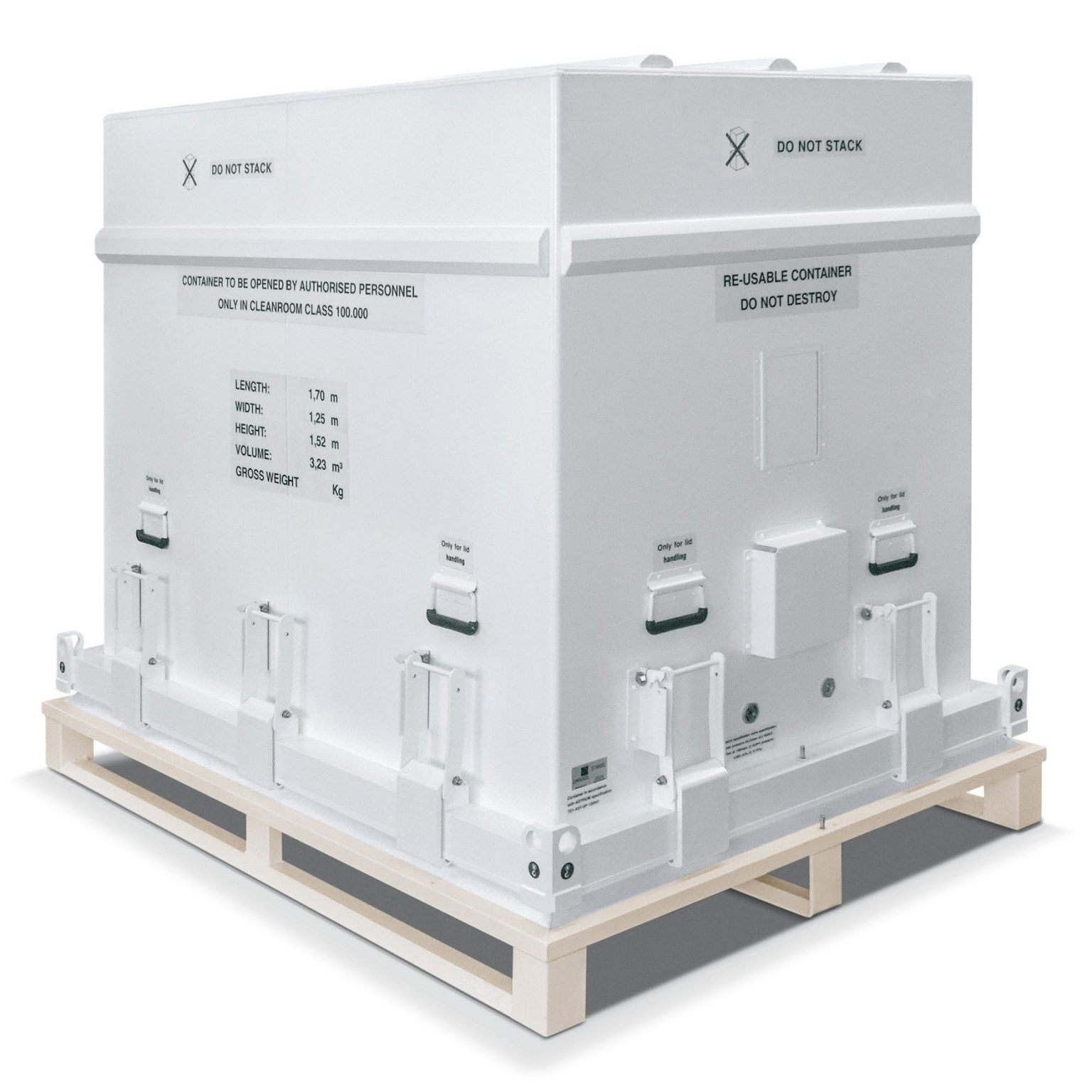 CLEANROOM STORAGE AND TRANSPORT
Zarges is a global supplier of clean room storage and transport equipment, used in hundreds of clean rooms worldwide. Zarges aluminum cases provide compatibility across the full spectrum of clean room classes. The cases can be UN-Approved as composite packaging (Code UN 4B, 4BU, 4BV, 4BW and 50B). Our cases are available with or without custom foam liners and inserts.
CURRENT CUSTOMER USE CASES
Zarges supplies storage and transport cases for multiple market-leading semiconductor manufacturer cleanrooms. The manufacturers desired a more efficient system for transporting machine parts for periodical cleaning and removal of poisonous silica buildup. By sealing the parts and placing them into Zarges K470 cases with a custom foam lining, the parts are removed safely from the cleanroom, transported, cleaned, and stored until the parts are ready to be rotated back into service. This new process eliminated several previous handling procedures and the need for additional packaging. It also prevents unnecessary exposure, contamination and damage, and reduces costs and labor.
ZARGES IN SEMICONDUCTOR MANUFACTURING CLEANROOMS

Zarges cases provide tangible benefits for reverse logistic processes like cleanroom storage and transport. Our cases are made of a tough aluminum alloy that is either anodized or powder coated. These surface treatments are not electrically conductive, protect against corrosion and reduce potential off gassing contamination. In normal use, the case finish is scratch resistant, and will generate no dust or aluminum particles. Our cases are offered with IP levels up to IP67 to protect against transmission of dust, vapor and other contaminants. The case exterior is hygienic and easily cleaned and disinfected for introduction into clean areas.
CLEANROOMS AND CLASSIFICATIONS
Cleanrooms are used in any industrial environment where particulates transmitted in the air can lead to contamination or disrupt the manufacturing process. This is essential for the exacting manufacture of semiconductors. HEPA / ULPA filtration reduces the particle size and amount in the desired environment, as do strict policies for what can be brought in and out of the environment.
Cleanrooms are classified according to the number and size of particles permitted per volume of air. Current standards are governed by ISO 14644-1 and ISO 14698, ranging from the strictest regulation, ISO 1, which allows for a maximum of 10 ≥0.1 µm sized particles per cubic meter all the way to ISO 9, which is essentially unfiltered room air. These classifications supersede the previous US FED STD 209E standards which were discontinued in 2001 but are still commonly referenced. Zarges cases are, or can be made, appropriate for any of the classifications listed.
KEY FEATURES

- High-quality aluminum universal cases
- Rugged fully welded profile frame
- Lid latches can be secured with seals or a padlock (max. shackle thickness .25″)
- Ergonomic spring handles automatically stow for safe shipping
- Over 50 standard sizes to choose from, plus custom sizes Each case constructed of extra strong 5005 alloy aluminum sheeting
- Available as IP54, IP65 or IP67 Optional UN Certification for Hazmat Transport
Zarges aluminum cases are engineered with high-strength impact-resistant aluminum alloy. The cases are available with custom foam liners (including low density and anti-static foam), inserts, and finishes. Additionally, we can test and certify our cases as UN certified for hazardous material (HAZMAT) transport.
KEY BENEFITS

Size: Zarges is a market leader with more usable internal volume per cubic foot
Weight: Aluminum delivers excellent durability and weight savings in a smaller footprint
Impervious to elements: Case withstands temperature range of -238° to 302° F; UV, water, weather and corrosion resistant
Will not warp or crack




We can also assist with the following:
Information on regulations and laws. Advice on the classification of hazardous goods. Recommendations for suitable interior and exterior packaging (incl. padding/padding material). Custom fabrication, inserts, finishes and more.