ZARGES ALUMINUM CASES FOR MILITARY AND GOVERNMENT

Zarges aluminum cases are a critical element of government logistics. Our shipping and transport cases have been successfully deployed in many applications including: land and air vehicles, mobile hospitals, emergency response units, hazardous material transport, and ground communications. Programs that have strict SWaP (Space, Weight and Power) budgets benefit from the lighter weight of aluminum and the greater usable space when compared to plastic cases.
Zarges cases have been designed to meet multiple MIL specs including MIL-STD-285 and MIL-STD 810. Our aluminum cases have been successful for ammunitions and firearms packaging, satellite protection, and in-theatre communication systems. Zarges cases are also essential in the transport and security of equipment for police, emergency medical services and firefighters. UN Certification for hazmat transport and storage is also available.
- Satellites
- Science and Research
- Lithium Ion Batteries
- Drones and UAVs
- First Responders
- Hazardous Materials
ZARGES CASES MEET OR EXCEED
MIL-STD-810:
- Method 500.5, Procedure I – Low Pressure (Altitude)
- Method 501.4 High Temperature
- Method 502.4 Low Temperature
- Method 505.4 Solar radiation
- Method 506.4, Procedure II – Water resistance, splash proof
- Method 506.4, Procedure III – Water resistance, drip proof
- Method 506.5, Procedure I – Rain and Blowing Rain
- Method 507.4 Humidity
- Method 508.5 Fungus
- Method 509.5 Salt Fog
- Method 510.4 Dust exposure
- Method 510.5, Procedure I – Blowing Dust
- Method 516.4, Procedure IV – Transit drop 1.2 m

ATA 300
CERTIFICATIONS AND TEST REPORTS
- ATA300 Specifications
- ITAR Certification Letter
- ZARGES ISO Certificate
- IGBC K470 Grizzly Bear Resistance Certification
UN CERTIFICATION

- UN certification for Hazardous Materials is available for several different ZARGES cases, including the K470, K473, K475, K424 XCand K410
- ZARGES, Inc. provides testing at our Charlotte facility for a fee of $75.
FOR EACH CERTIFICATION

- Case is first verified to be an authentic ZARGES product and the correct product requested by the customer.
- The case then undergoes an ultrasonic inspection to ensure that the thickness of all case walls is within tolerance for the order's specification.
- Once the case passes this inspection, it is labeled and delivered to the customer with appropriate documentation
The ZARGES K470 aluminum shipping and storage case provides perfect protection, even under the most extreme conditions. The K470 is ATA 300 approved, lightweight, rugged, and dust and water resistant. Its durable construction provides optimal protection for any contents and is available in 26 standard sizes.
- Cast-aluminum stacking corners
- High level of stability due to three fully-welded aluminum profile frames
- Riveted joints, beading all round and corner beads for additional dimensional stability
- IP 54 standard, IP 65 class seal available as accessory
- Standard sizes with IP 65 class or IP 67 class protection against water jets available
- Integrated snap fasteners: may be secured with a plug lock, lead seals, spring anti-opening feature or a padlock (max. shackle thickness .25″)
- Constructed of extra strong 5005 alloy aluminum sheetingLid with stainless steel hinge, two lid straps and continuous polyurethane seal
- Ergonomic heavy-duty sprung drop handles
- Sized to fit DIN 15141 pallet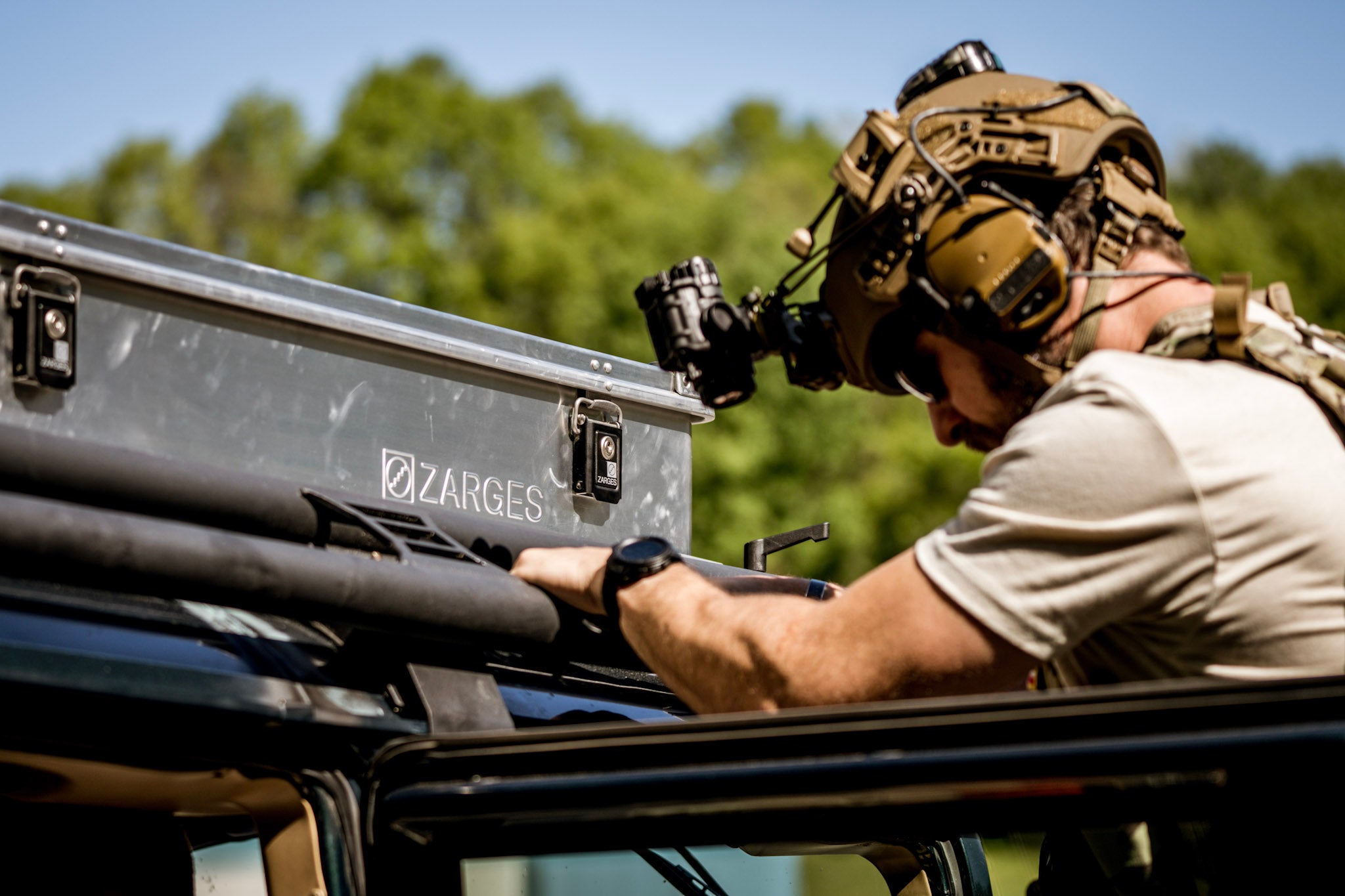 Case Study
Requirement: Safely sustain nuclear command, control and communications terminals for the Air Force's nuclear bomber mission.
ZARGES Solution: ZARGES delivered a rugged storage case that provides security and redundancy to this vital system.
Met or passed:
MIL – 810 Shock/Vibe, Wind blown rain, Salt/FogMIL – 461 EMIMIL – 285 EMP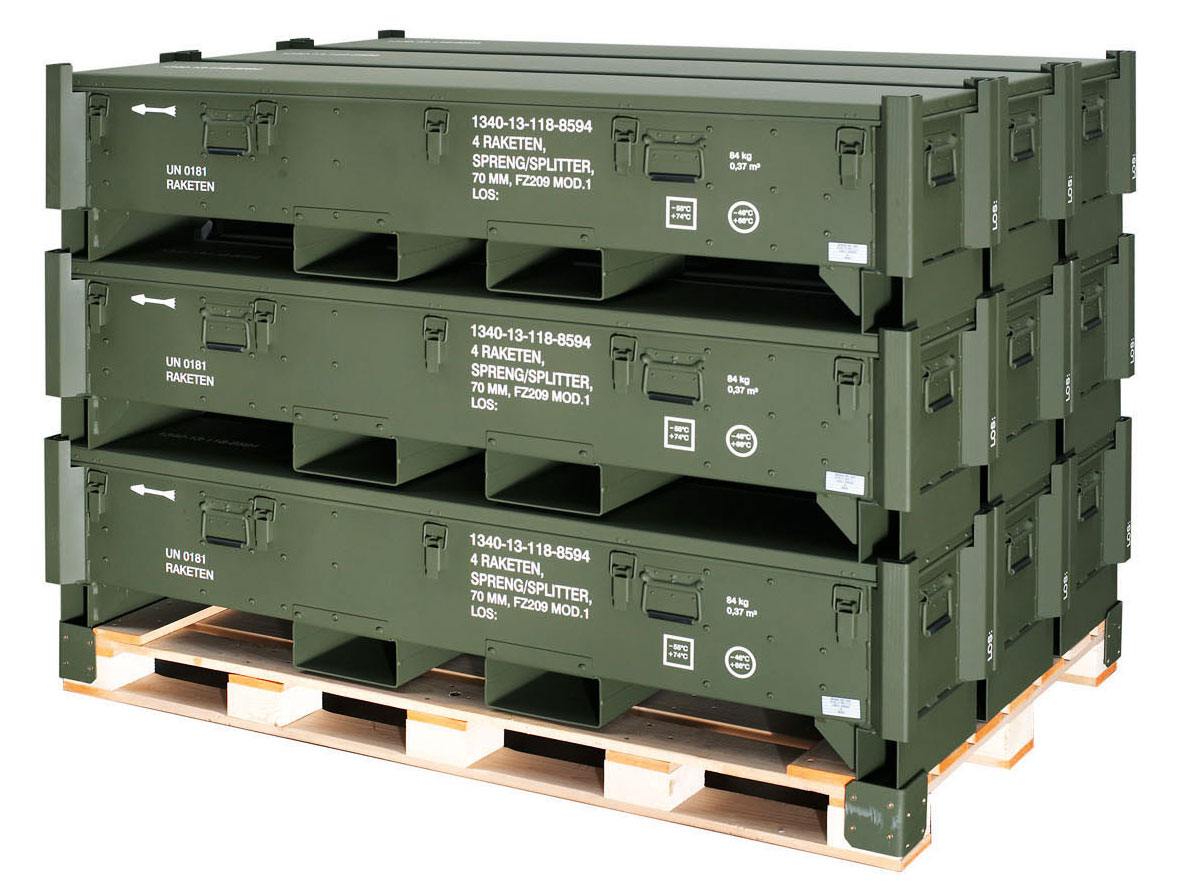 Case Study
Requirement: Missile storage and transport, UN HazMat Certified, IP 67 protection, resistant to salt spray and moisture, droppable from a height of 82.7″, and conforming to NATO Level 3.
ZARGES Solution: ZARGES provided custom K473 cases that met or exceeded all requirements.
Met or passed:
IP 67 UN Hazardous Materials Certification NATO Level 3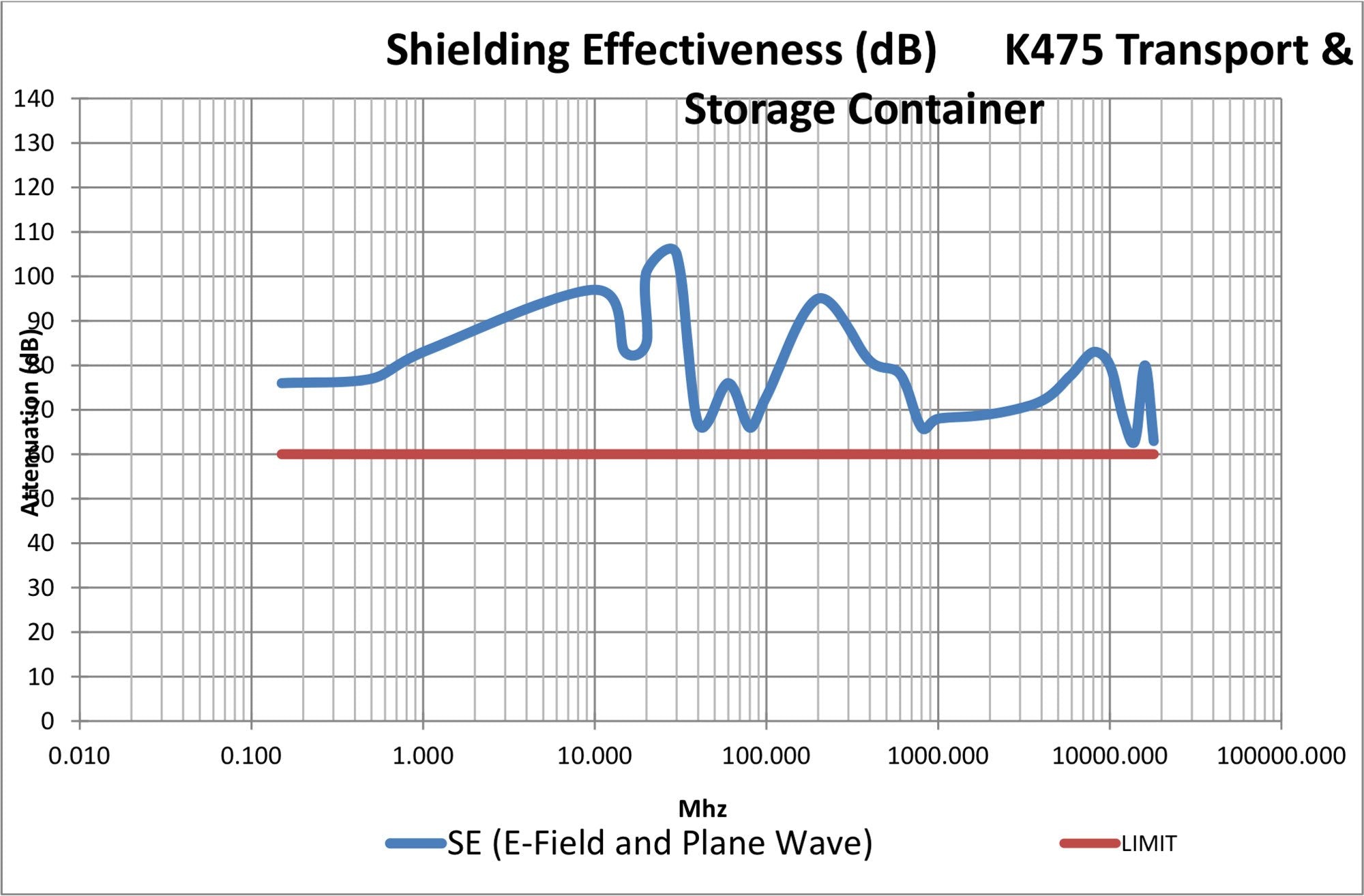 K475 EMI TEST RESULTS
The ZARGES K475 heavy duty case is the most rugged and durable case available on the market. The cases offer an IP rating of 67, with an integrated pressure release valve and humidity indicator. The cases provide a high level of EMI shielding and may also be UN Certified for the transport of hazardous goods. For the most critical missions and harshest environments, the K475 is the ultimate choice in reusable packaging for protecting your sensitive goods and equipment.
Seal-welded case, tightness IP67Removable lid with self-locking spring fastenersErgonomic heavy-duty sprung drop handlesPressure relief valve with humidity indicatorEMI shieldingStackable reusable packaging of corrosion-resistant aluminumContinuous seal integrated into lidSturdy stacking corners on base and lidUN Certification for Hazardous Material Transport available
The ZARGES K473 Heavy Duty Aluminum Container is the unrivaled choice for large, dense payloads. It features a rugged design with sturdy welded frames made from full profile sections and positively bonded to the exterior. The corners and sides are beaded for additional dimensional stability. The removable lid has an integral seal with IP 65 protection. A version with a hinged lid with integral seal and two straps, providing IP 54 rating, is also available. Each unit is built to customer specifications including: size, hazmat certification, foam linings, accessories, fittings and finishes. For the ultimate protection of big, heavy goods, the ZARGES K473 is the optimal solution.
Based on the classic ZARGES K470 design each unit is built to customer specifications. Rugged design, particularly suitable for high payloads, removable lid with sealing, IP 65 protection, aluminum profile-section, joints fully welded, beading all around and corner beads for additional dimensional stability, available with cast alloy stacking corners and aluminum pallet substructure. Cases with and without pallet substructure can be stacked. Fitted with ZARGES comfort fasteners and can be secured with a plug lock, lead seals, protection against bursting open or a padlock (max. shackle thickness .25″). Clearance dimensions are the same as the inside dimension. UN Certification for Hazardous Material Transport available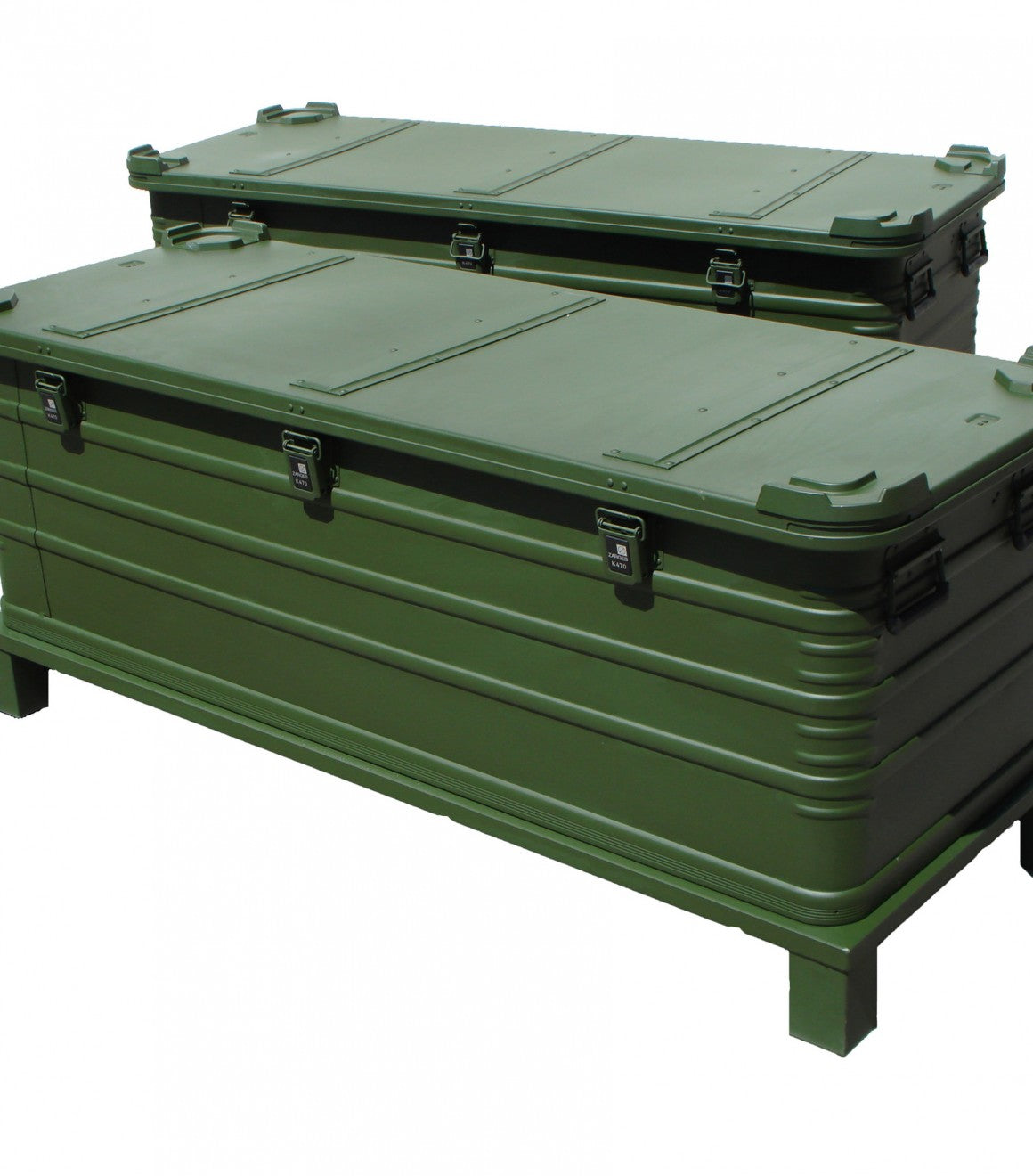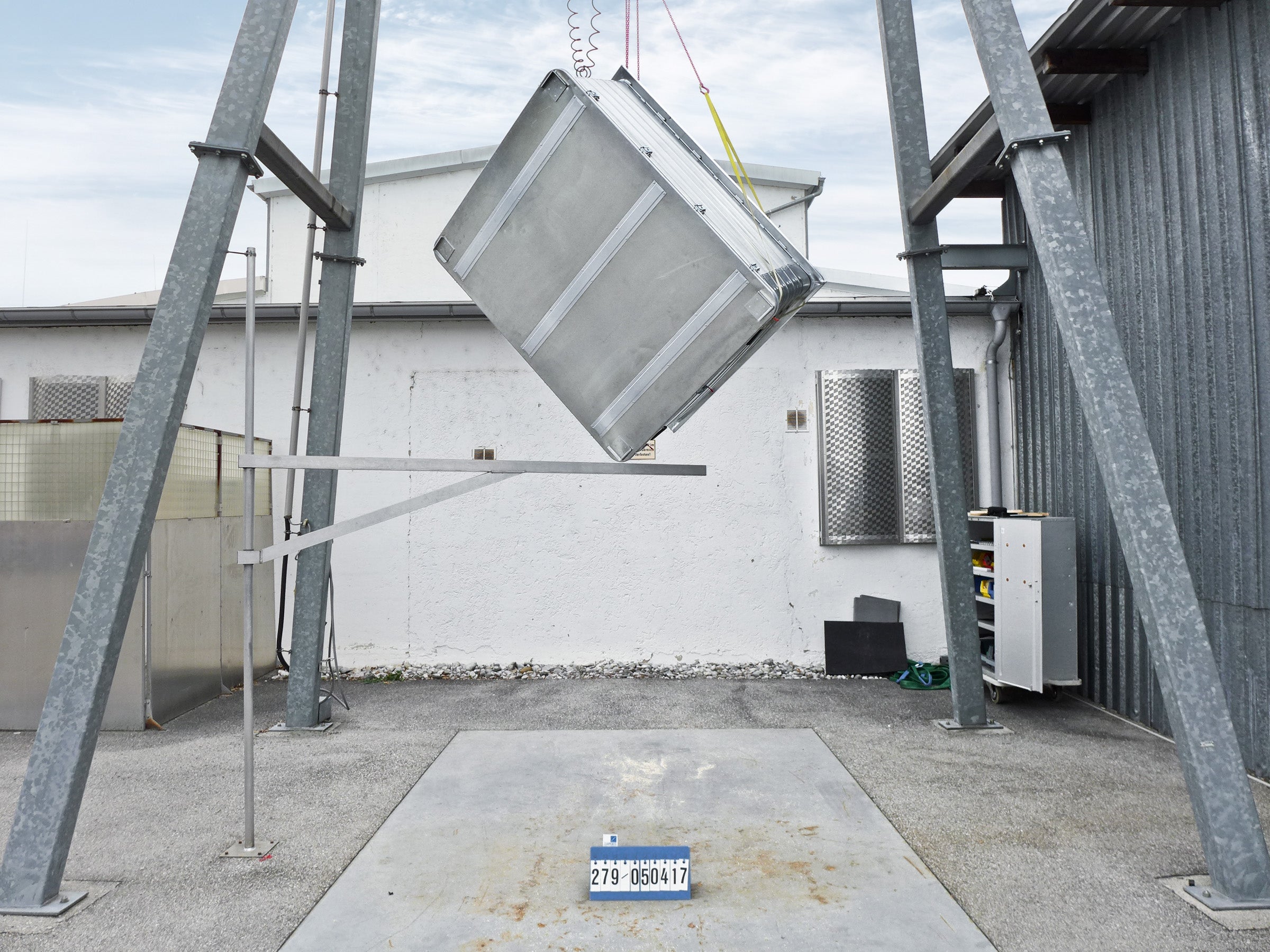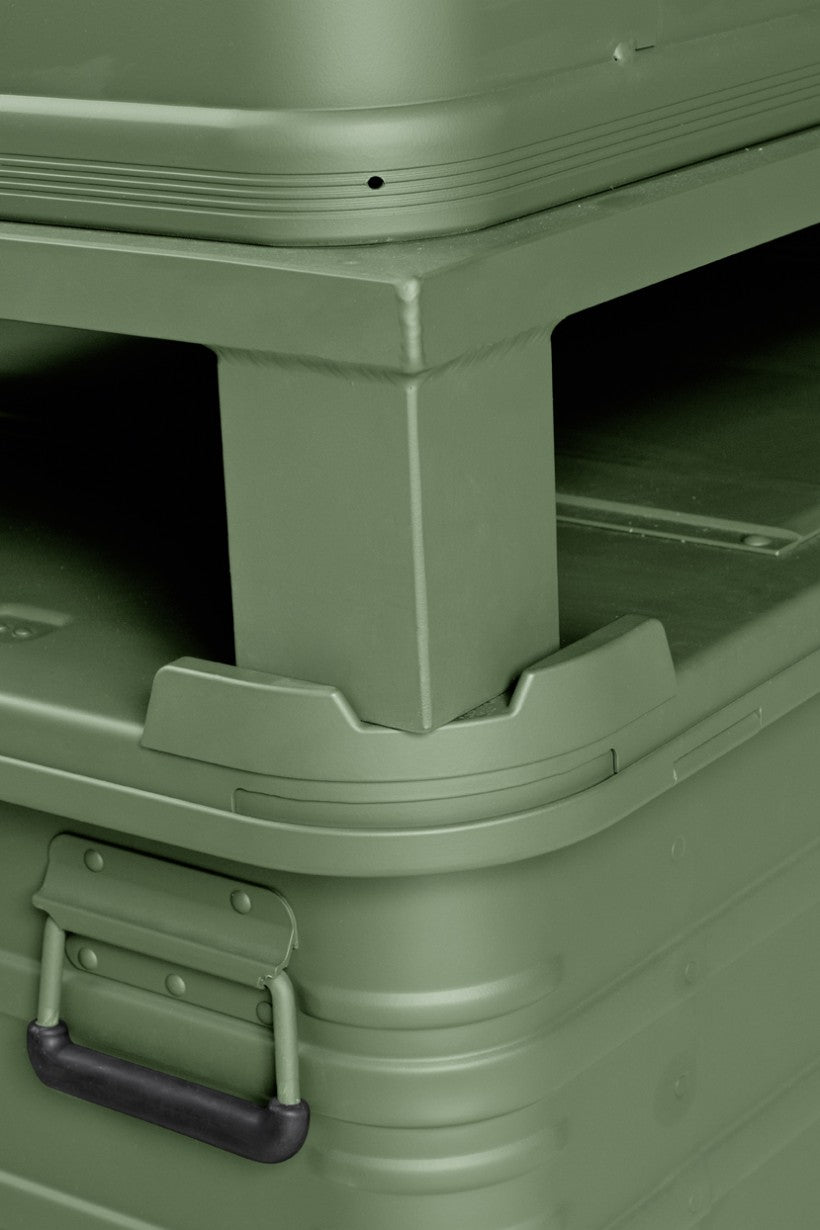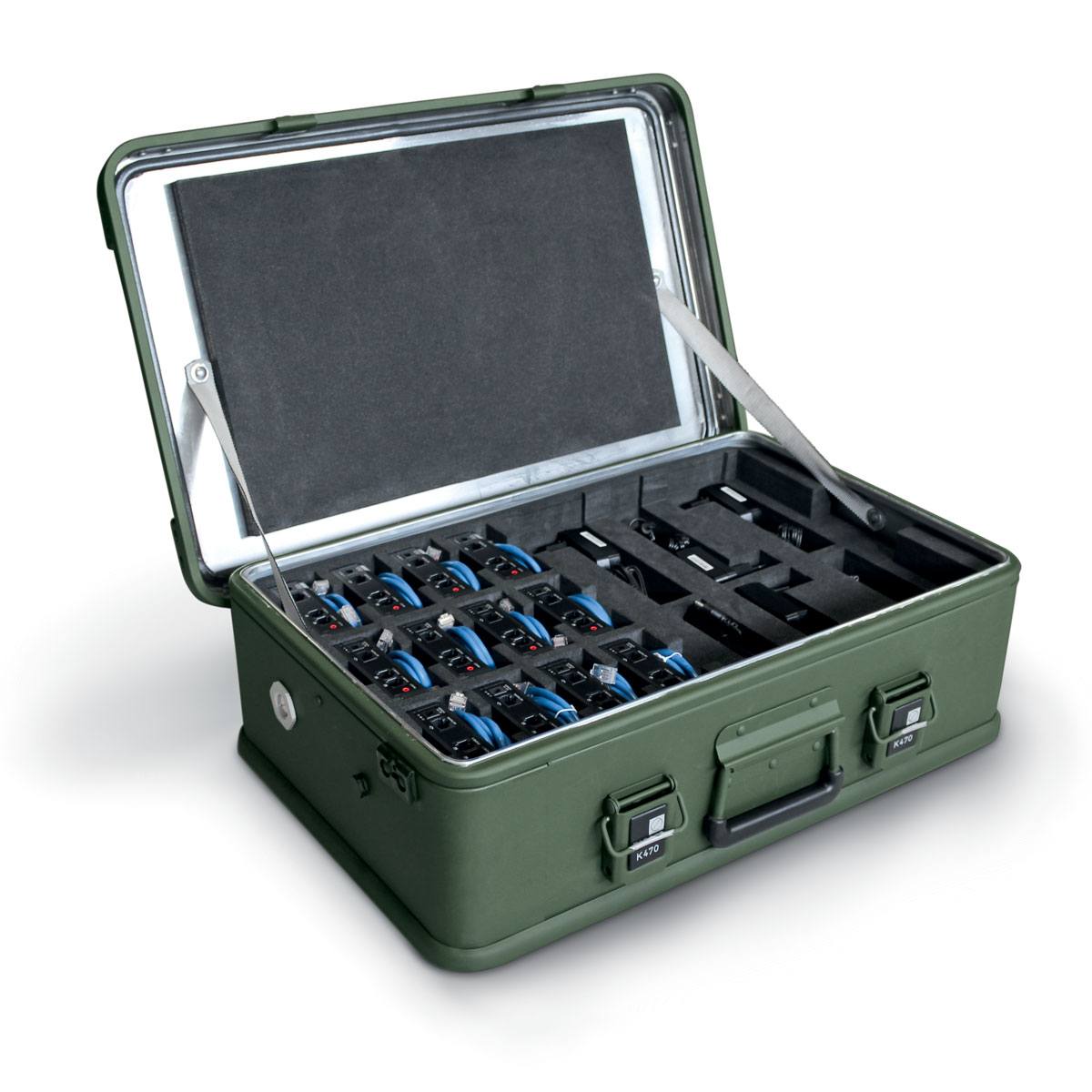 FINISHES AND FOAM
ZARGES Cases are delivered to the customer as unpainted aluminum. All finishes in accordance FED STD 595. Pantone/RAL colors available. Labeling according to MIL-STD.
CARC (Chemical Agent Resistant Coatings)Solvent and Water based applicationsStencils and silk screen graphics to include logos – unlimited font size and style
We manufacture tailor-made foam inserts in a large range of materials to provide perfect protection and functionality geared specifically to the goods you are transporting. You supply photos, drawings, 3D data or original parts – and our designers develop the perfect inserts for your specific application. You have a choice of various colors. Anti-static, dissipative or flame-retardant designs available.