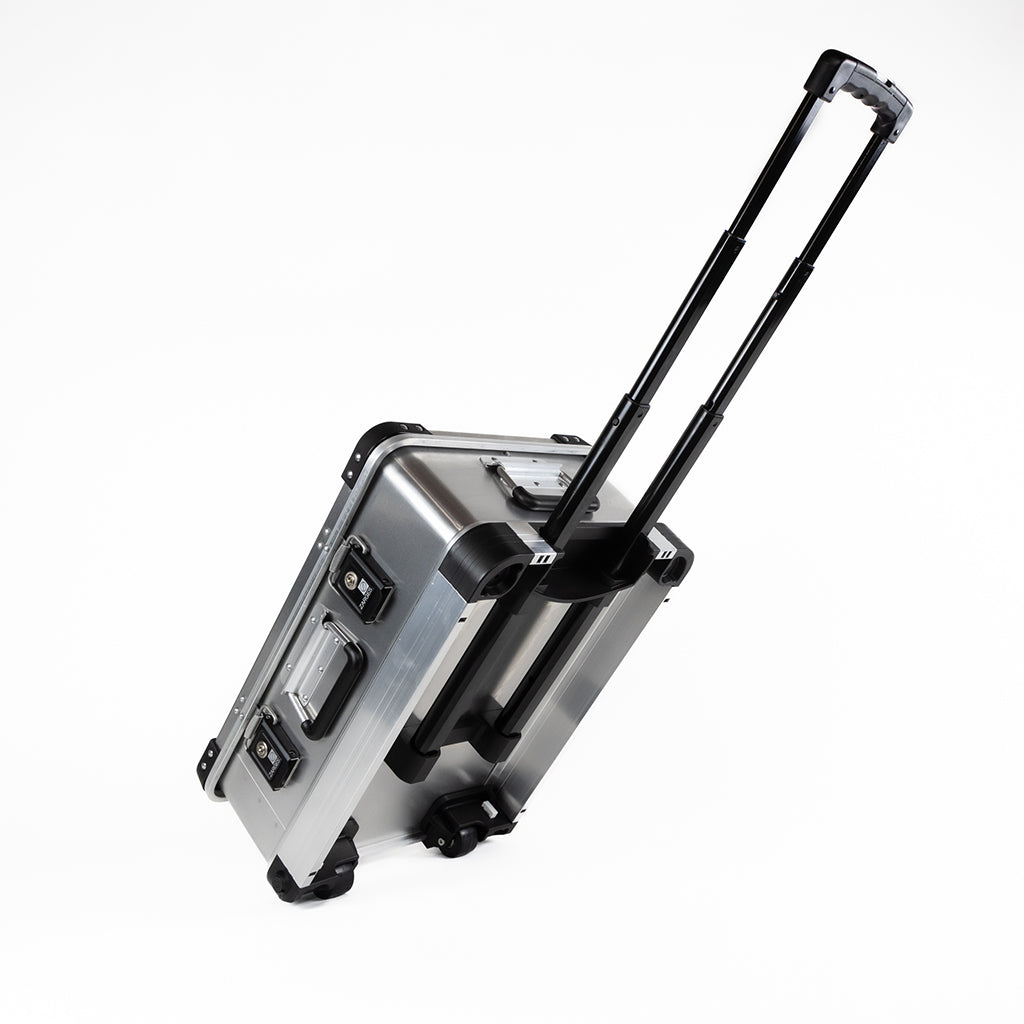 SKU: 41810
Dimensions: 20.32 x 13.78 x 6.26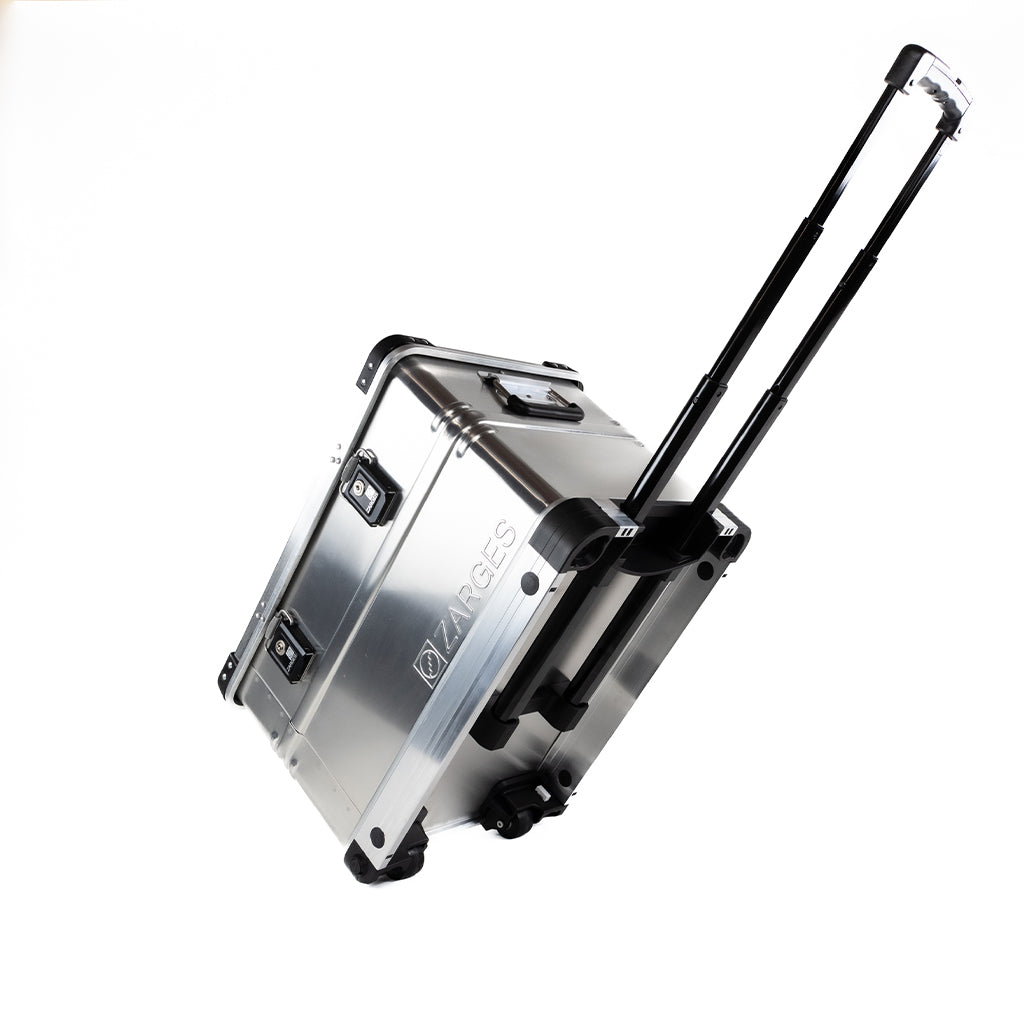 SKU: 41811
Dimensions: 21.65 x 13.78 x 12.21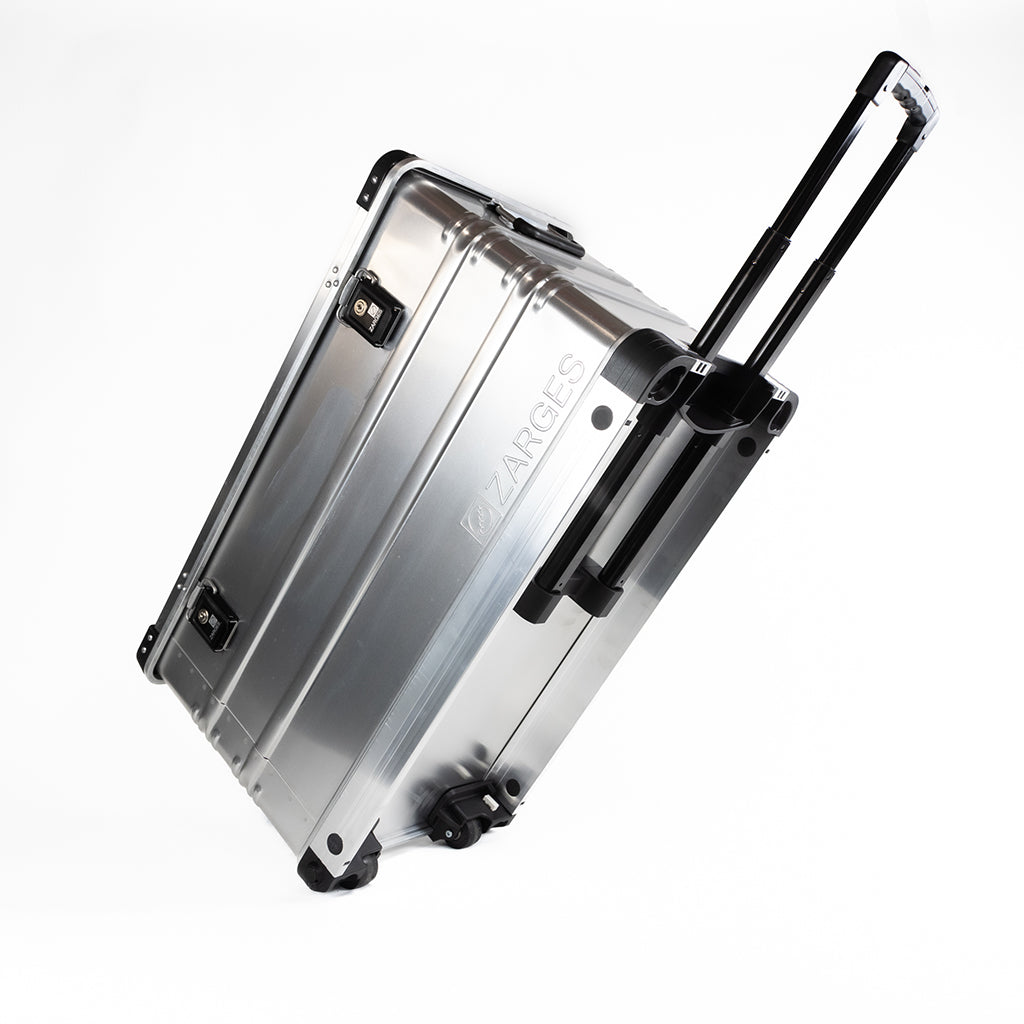 SKU: 41812
Dimensions: 29.53 x 13.78 x 14.96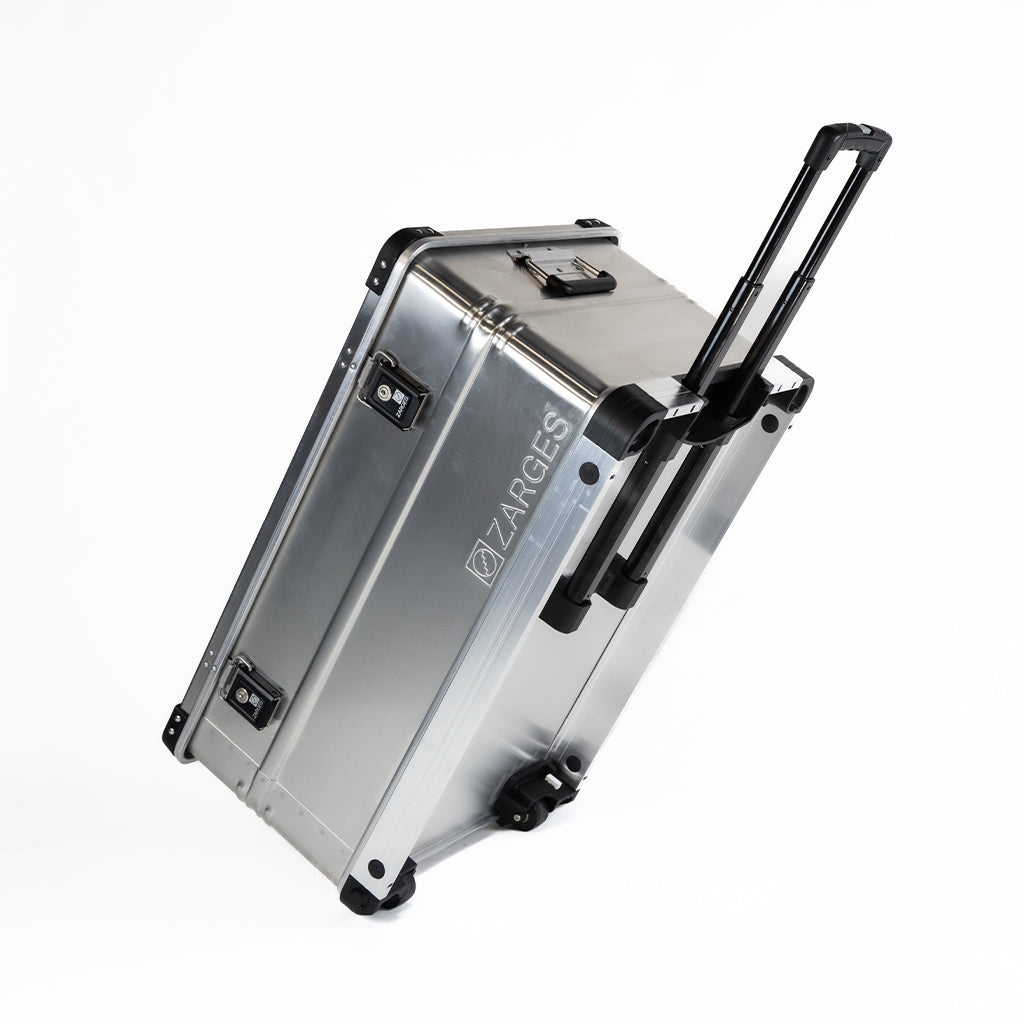 SKU: 41813
Dimensions: 29.53 x 17.72 x 12.21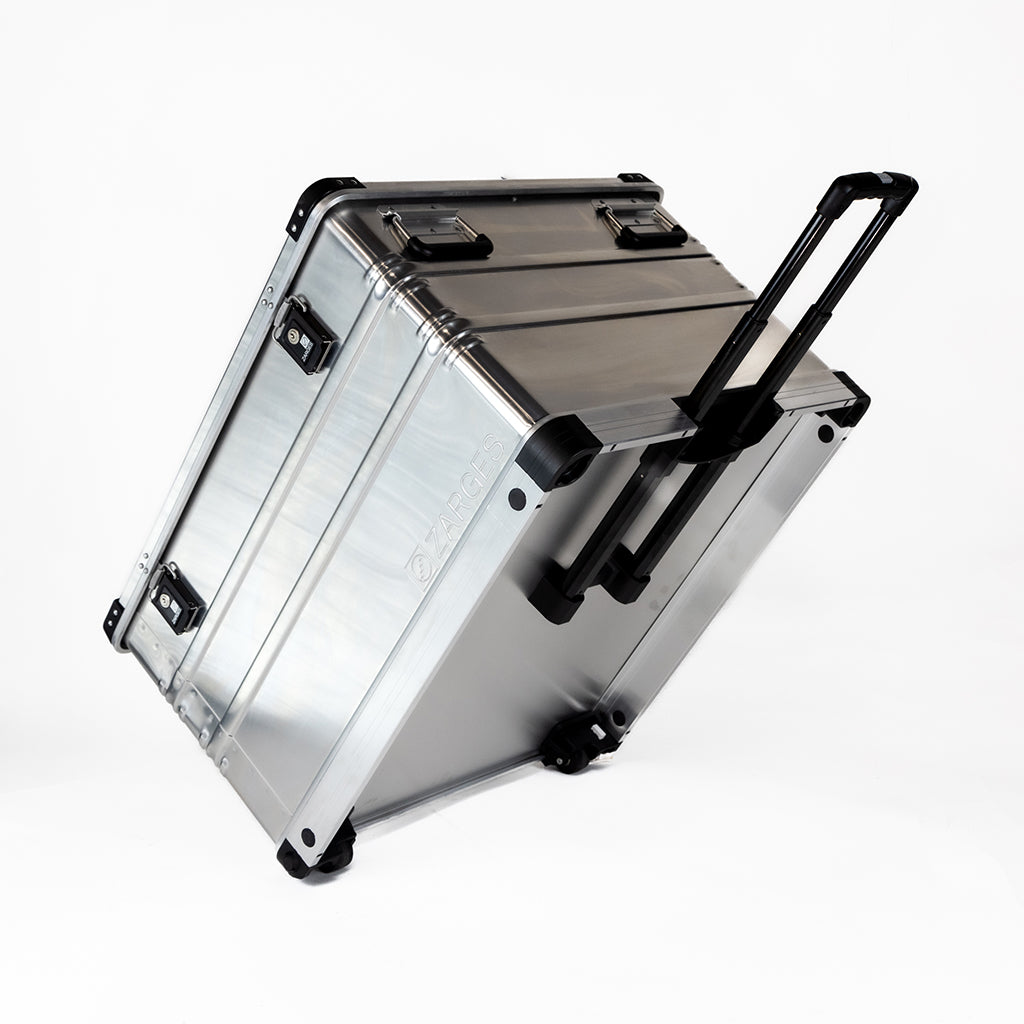 SKU: 41814
Dimensions: 29.53 x 25.0 x 16.14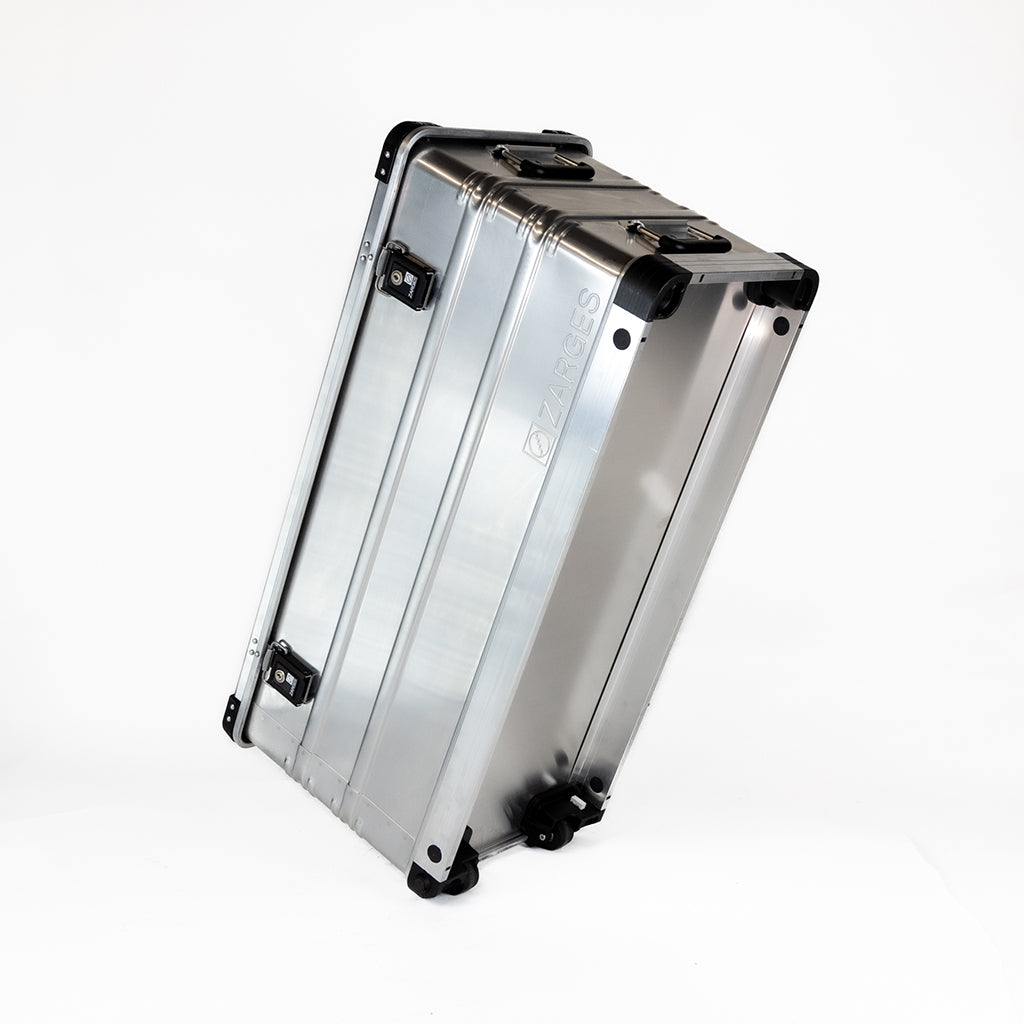 SKU: 41815
Dimensions: 35.83 x 13.78 x 14.96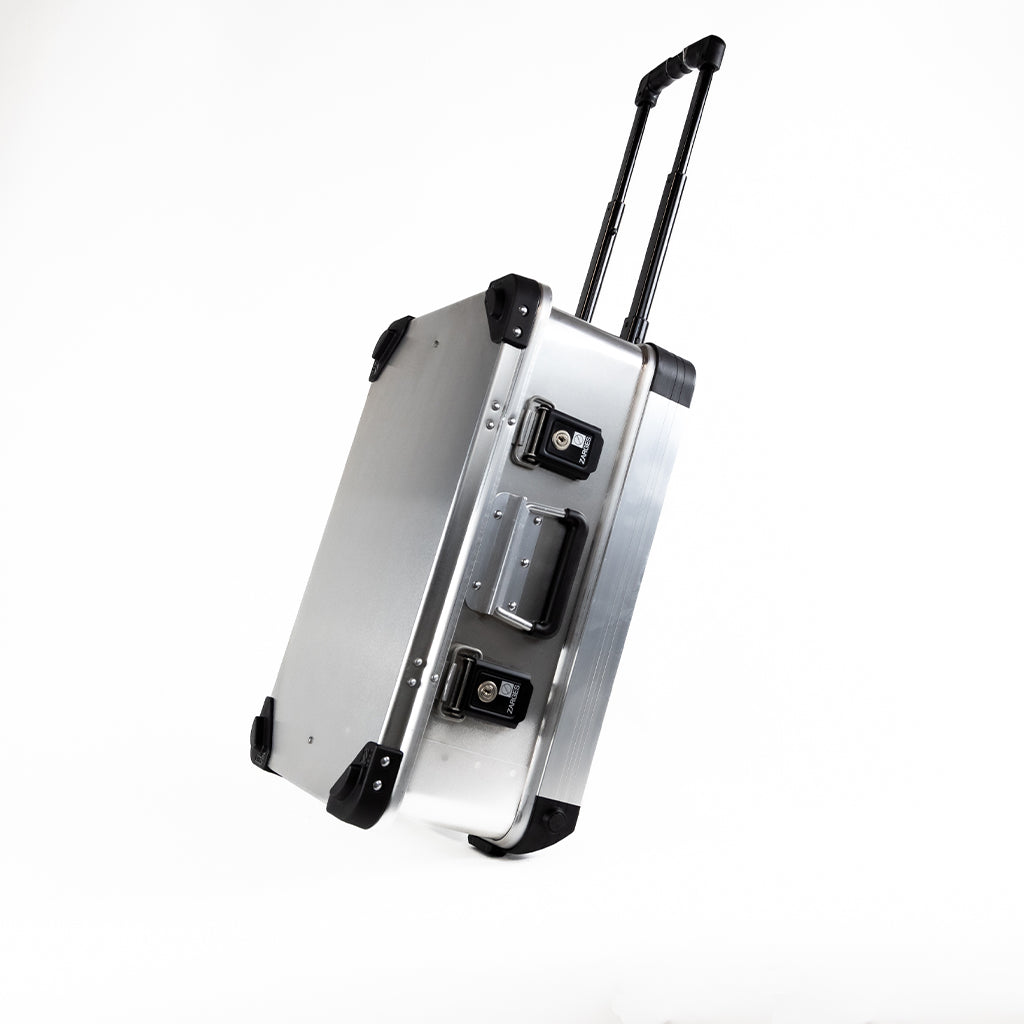 SKU: 41810
Dimensions: 20.32 x 13.78 x 6.26
The ZARGES K424 XC aluminum rolling case is the ultimate in security, versatility, and mobility. Like the legendary ZARGES K470, it is lightweight, rugged, and dust and water-resistant. The K424 XC features integrated casters, a retractable handle, stacking corners, side and corner beading for extra dimensional strength, and a wide range of useful case accessories, including 5" and 8.67" wheel kits. Available in six standard case sizes, the K424 XC is ready for any task, anywhere. Optional UN Certification for the transport of hazardous materials available.

Six models with a capacity ranging from 1,753 to 11,915 cu in.
Smooth mobility via integrated 2" casters
Optional 5" wheelset or 8 ⅔" off-road set available for use in difficult terrain.
Retractable handle (SKUs 41810-41814) or second sprung drop handle on the end face (SKU 41815)
Stacking corners are made from impact-resistant plastic and integrated stacking elements in the support frame.
Removable base insert made from abrasion-resistant PE foam
ZARGES K424 XC Rolling Case
Reduce your stress and workload with the versatility and mobility of a ZARGES K424 XC Aluminum Rolling Case. Integrated 2" casters and a retractable handle (n/a on SKU 41815) let you easily transport even the most sensitive equipment wherever you need to go.
Some situations require peak performance from people and equipment. In situations like these, the ZARGES K424 XC is a reliable companion. There are good reasons why first responders, emergency services and numerous aid organizations have been using ZARGES cases for almost 70 years. This first-hand experience that is reflected in the design of the ZARGES K424 XC. With even more stability, ergonomic design and durability, it is ideally prepared to face the toughest challenges. Your valuable goods are protected, even under the most adverse conditions by this perfect combination of ergonomic design, exceptional functionality and low weight.
The requirements placed on a roller case vary as widely as those of the people who use them. So how does the K424 XC manage to meet all these needs? How does one case fit the requirements of the varied needs of first responders, schools and universities, relief organizations, sports teams, photographers, scientists, expeditions, and hobbyists? The simple answer is by focusing on the essentials: optimal protection, maximum mobility, and minimum weight. That might sound unspectacular at first, but anyone who has had to endure lesser solutions on a daily basis knows exactly what we mean.
Our cases can be up to 50% more efficient than competing cases due to the advantages provided by aluminum. Thinner case walls mean more room for cargo and less weight for the case construction, reducing logistics and shipping costs. ZARGES aluminum cases are lighter and allow for more cargo in the same footprint than comparably sized chipboard or plastic cases.
The K424 XC is available in six standard sizes from 1,753 to 11,915 cubic inches – and custom sizes are available upon request to meet your exact requirements. Accessories for the K424 XC include 5" and 8.67" wheel kits for enhanced mobility, lid pockets, removable inside liner with crosswise dividers, foam linings, Pick 'n Pluck foam sets, individual foam fittings, and mounting brackets. The K424 XC is also available with optional UN Certification for the transport of hazardous materials. Clearance measurement is approximately 1.2 inches less than internal dimensions.
ZARGES K424 XC Applications:
Hobbyists
Industry and Manufacturing
Military, Aerospace and Government
Photography and Video
Sales and Trades
ZARGES K424 XC General Features:
High load-bearing capacity of up to 110 lbs. despite the low dead weight.
Constructed of extra strong 5005 alloy aluminum sheeting
Beading all round and corner beads for additional dimensional stability
May be stacked with ZARGES K470 and K440 series cases
Lid with stainless steel hinge, two lid straps and continuous polyurethane seal
Ergonomic heavy-duty sprung drop handles with plug locks
Sized to fit DIN 15141 pallet
K424 XC Data Sheet
K424 XC Catalog
| | | | | | | | |
| --- | --- | --- | --- | --- | --- | --- | --- |
| 41810 | 21.61 x 15.28 x 9.15 | 19.29 x 12.76 | 20.32 x 13.78 x 6.26 | 13.9 | 1753.0 | $724 | Add |
| 41811 | 22.95 x 15.28 x 15.09 | 20.63 x 12.76 | 21.65 x 13.78 x 12.21 | 16.1 | 3643.0 | $761 | Add |
| 41812 | 30.83 x 15.28 x 17.85 | 28.5 x 12.76 | 29.53 x 13.78 x 14.96 | 19.8 | 6088.0 | $897 | Add |
| 41813 | 30.83 x 19.21 x 15.09 | 28.5 x 16.69 | 29.53 x 17.72 x 12.21 | 20.9 | 6389.0 | $998 | Add |
| 41814 | 30.83 x 26.5 x 19.03 | 28.5 x 23.98 | 29.53 x 25.0 x 16.14 | 26.5 | 11915.0 | $1185 | Add |
| 41815 | 37.13 x 15.28 x 17.85 | 34.8 x 12.76 | 35.83 x 13.78 x 14.96 | 20.9 | 7386.0 | $957 | Add |