BatterySafe™ Manual
Lithium-Ion batteries pose catastrophic risk when damaged, defective, or overheated, potentially leading to prolonged fire over 2,000° F.  For this reason, Lithium-Ion batteries are considered hazardous materials by all national, state, local and international authorities; and, have stringent storage and transportation requirements. 
 The volatility of a Lithium-Ion battery is impacted by many variables, including battery age, battery damage, heat, percentage of charge, battery chemistry, quality. 
Transport of Lithium-Ion batteries is strictly regulated by various domestic and international road, rail, and air authorities.  Before shipping a Lithium-Ion battery, review the links in the Resource Center.
Although no packaging provides 100% guaranteed protection, the Zarges BatterySafe™ products provide a safe means of battery storage and transport when used properly.  Zarges cases meet numerous US military specifications under MIL‑STD-810 and are internationally recognized under United Nations Packaging Group-1, the highest rated designation for hazardous
material packaging, as well as ATA 300 Category 1.  Zarges BatterySafe™ products are suitable for transporting batteries and other hazardous goods within the guidelines of 49CFR and IMDG. 
Zarges makes no guarantee regarding universal containment of lithium fires and cannot be held liable for property damage or personal injury resulting from a lithium fire.
When using the Zarges BatterySafe:
Do not use Zarges BatterySafe™ if lid cannot be latched securely, inner lining is damaged, battery fire has occurred.

Do not cut holes in case or otherwise modify its structure.

Do not exceed rated payload of case. Payload indicated in kilograms on the silver UN-Certification label on this case after the "X" or "Y".

Store the Zarges BatterySafe™ in cool dry location away from flammable materials or heat more than 50°C (120°F).

Do not charge batteries in case.

Transport of lithium-ion batteries on any passenger aircraft is strictly regulated by FAA and other domestic & international bodies. Read and follow federal, state, local and international regulations for safe transport of lithium-ion batteries by air, sea, rail, road.

Lithium-Ion Battery Resource Center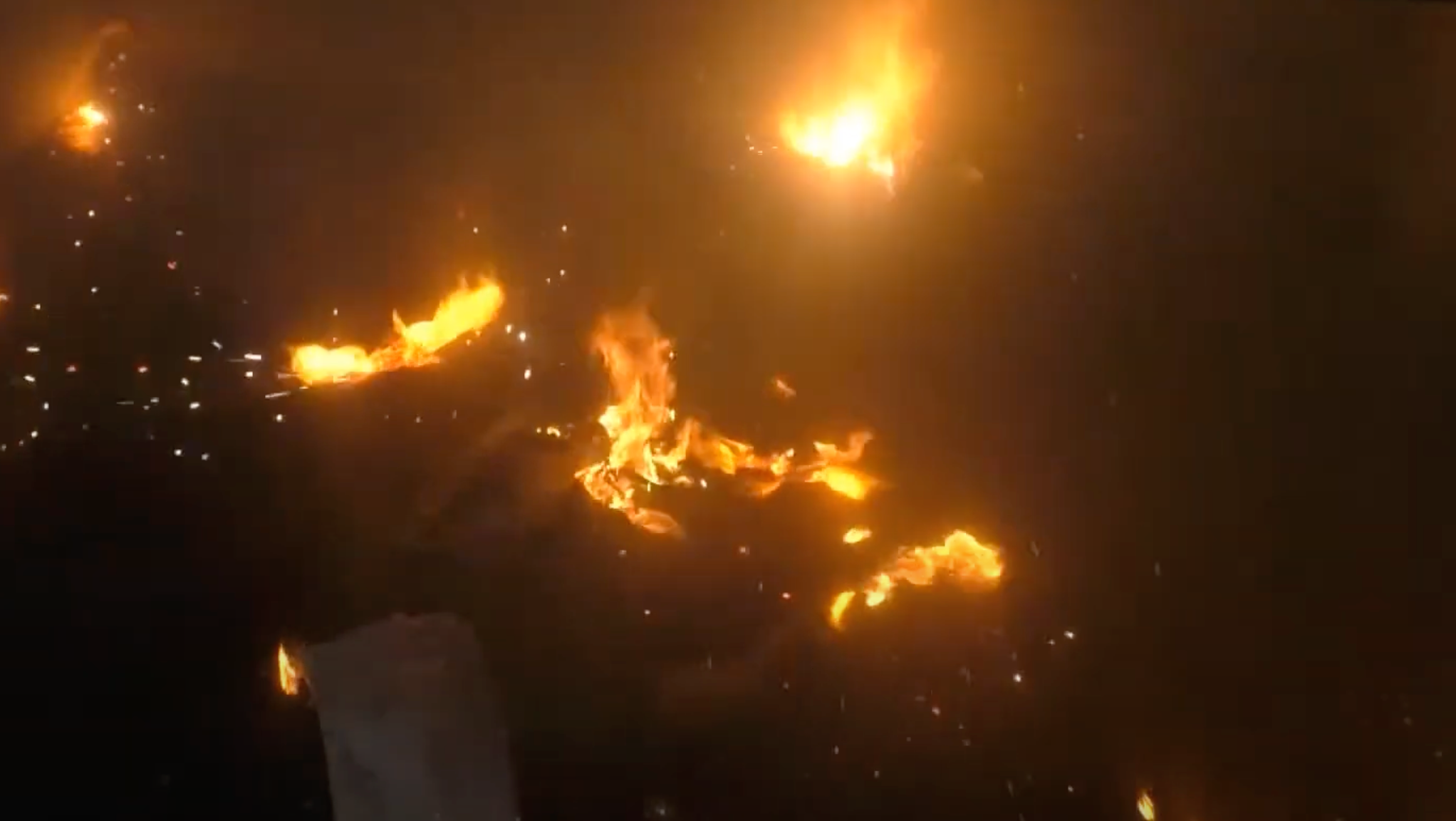 IN EVENT OF FIRE:
Once a Lithium-Ion battery has entered an
unstable state, multiple fires can occur over several hours, or days.  If you suspect a fire may have occurred inside the BatterySafe™, do not open
case and contact your local fire department for recommended disposal.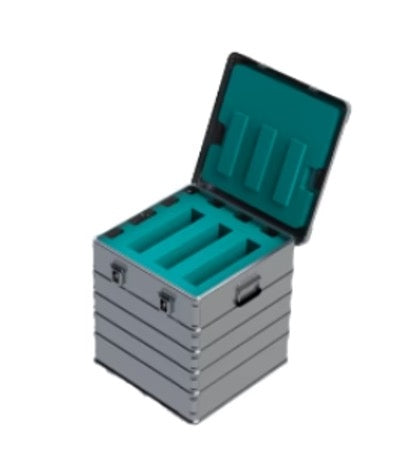 Fire Resistant Anti-Static Foam (FRAS) Cases
1. Insert battery in slots.
2. Close lid and secure all latches.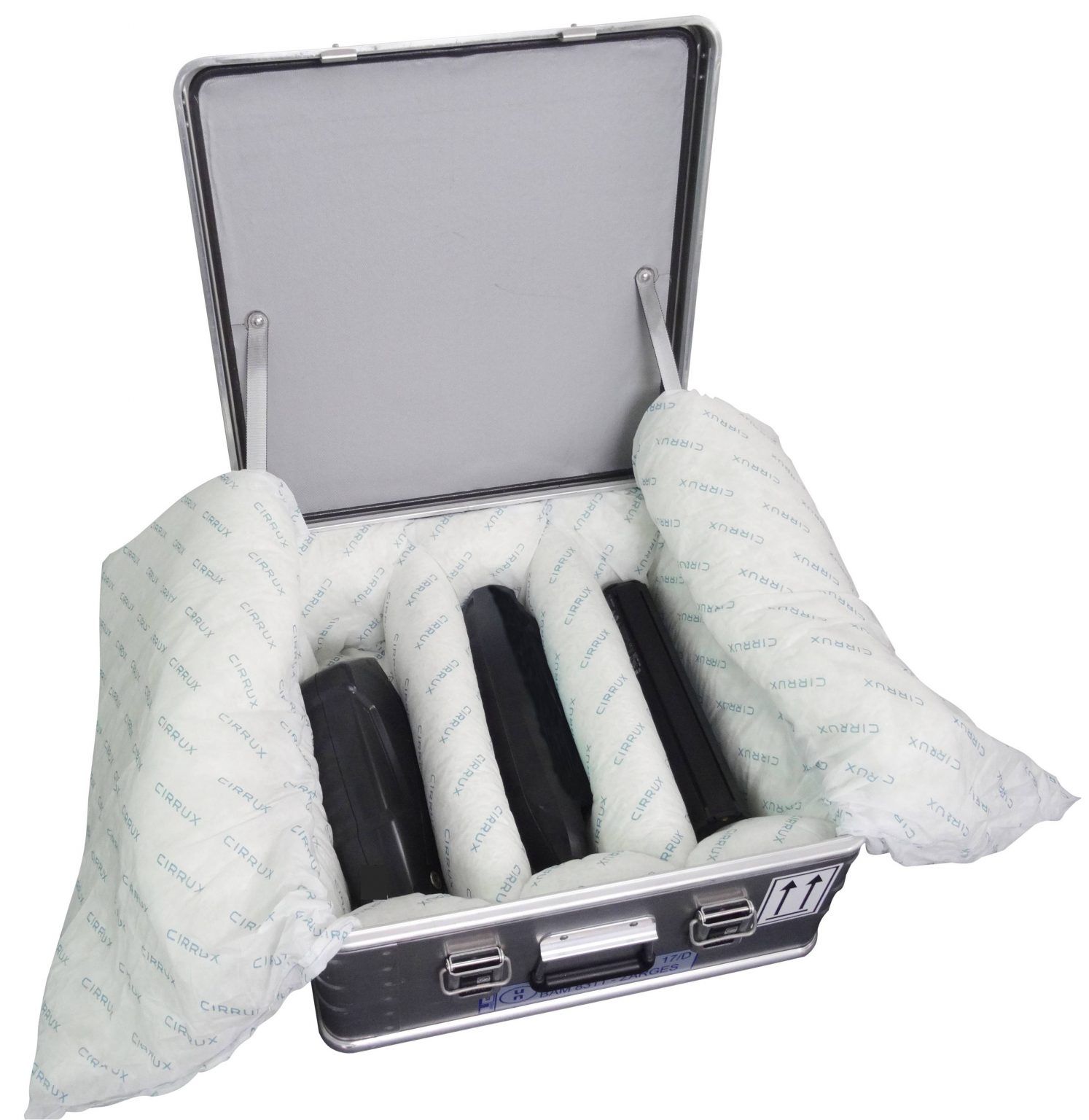 Cirrux™ Intumescent Glass Foam Cushion Cases:
Insert battery in open cavities.

Fold Cirrux™ cushions over battery cavities to completely cover the batteries. Tuck cushions into edge of case to avoid pinching and damaging the cushions when closing the case.

Close lid and secure all latches.