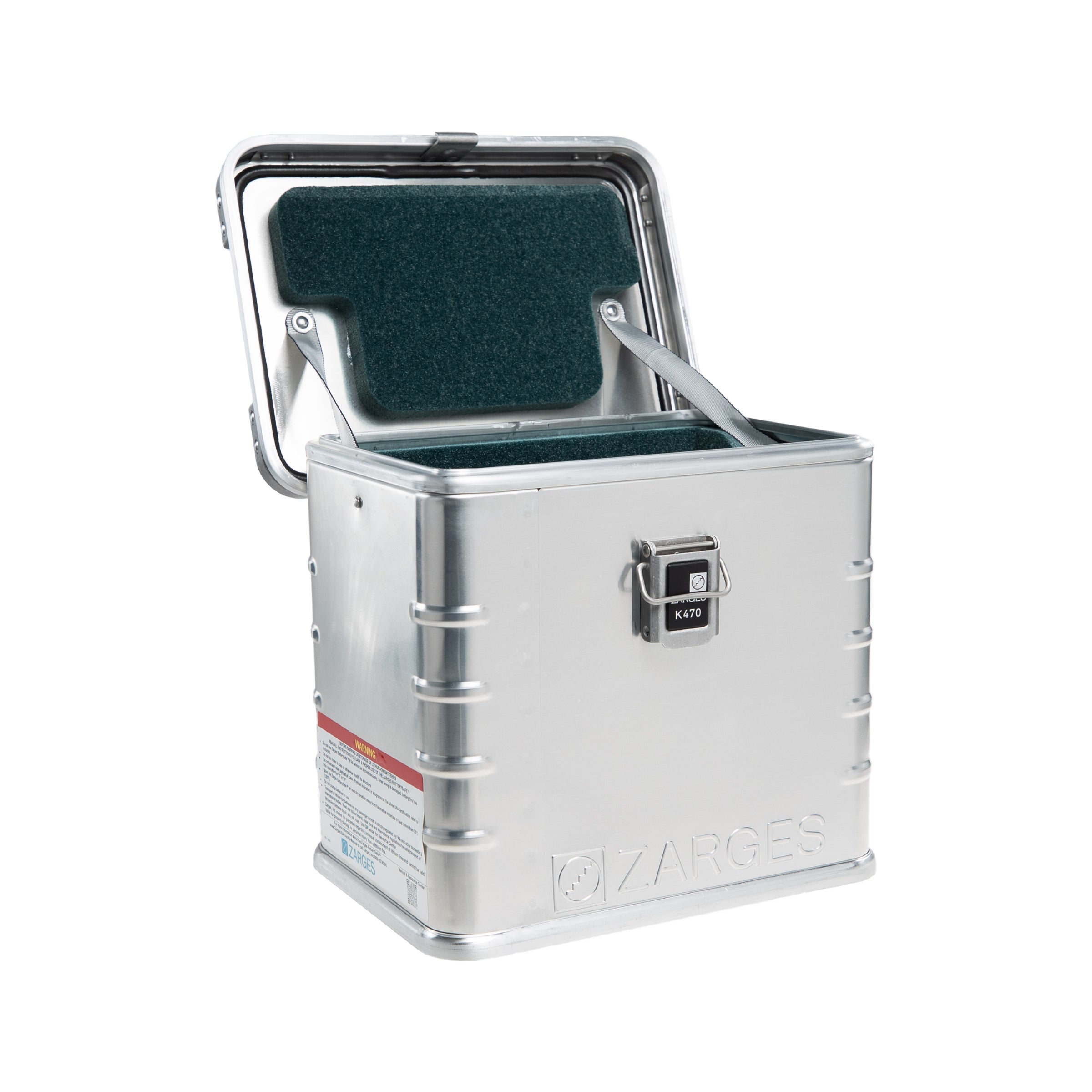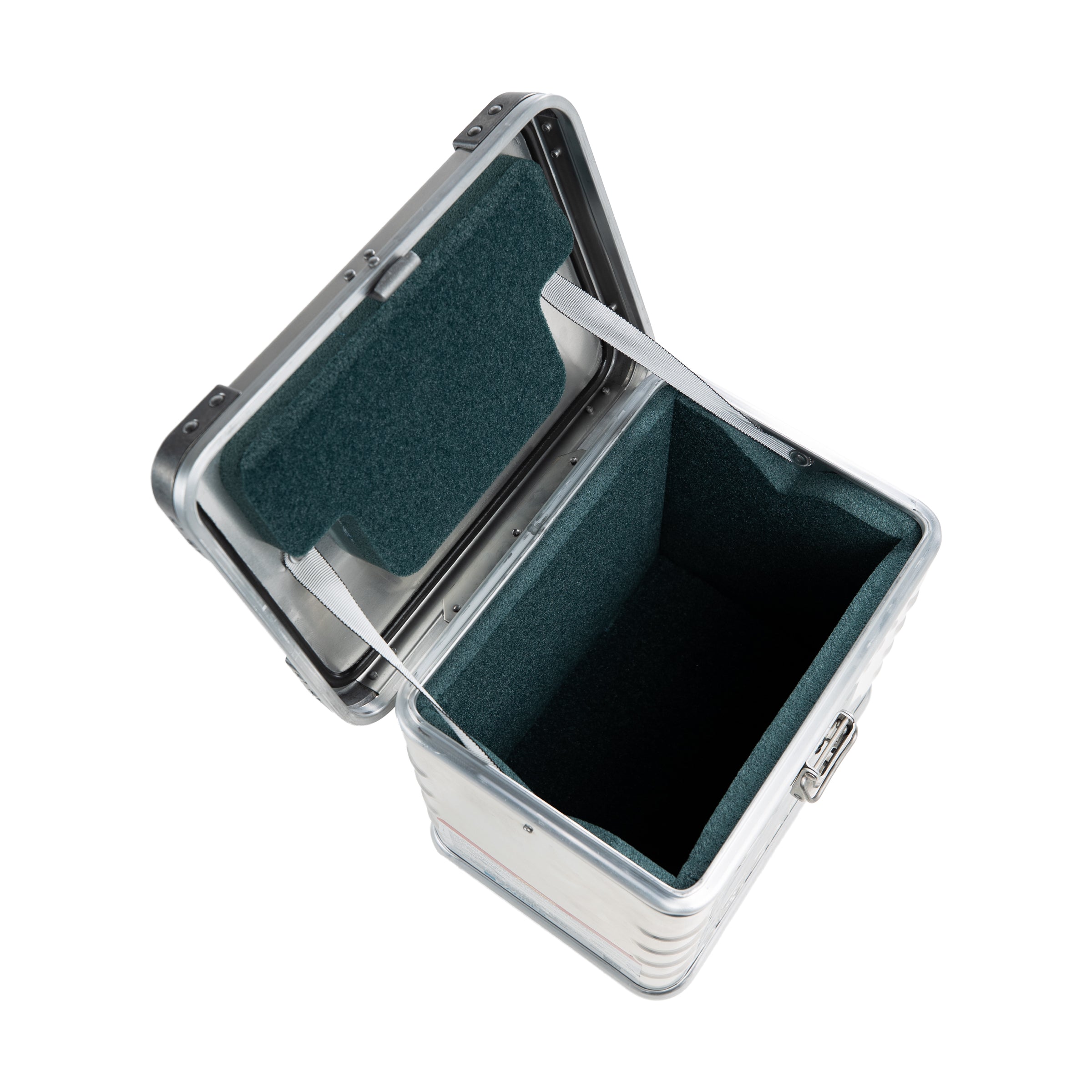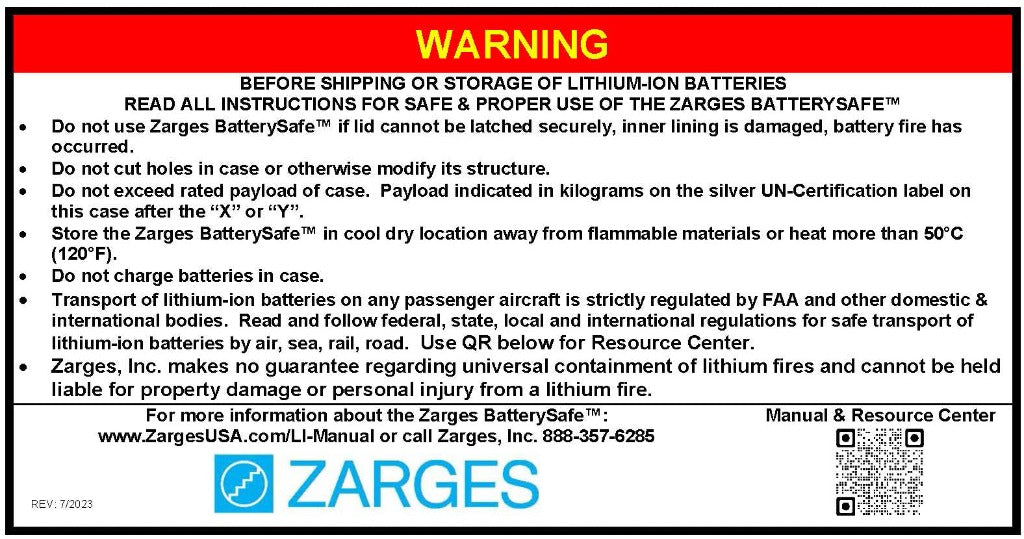 BatterySafe™ - 40677 - F Series
Internal Dimensions: 13.78 X 9.84 X 12.32
External Dimensions: 15.08 X 11.34 X 13.38
Clearance Dimensions: 12.76 X 8.82
Volume: 1500.7 IN3
Weight: 6.8 lb
Your First Line of Defense for Battery Protection

Zarges BatterySafeTM cases feature special insulated flame-retardant lining and are tested to safely store and transport* Lithium-Ion batteries. The cases meet US military specifications under MIL-STD-810 and are internationally recognized under United Nations Packaging Group-1, the highest-rated designation for hazardous material packaging.
Note: Lead time of 2 weeks.
ZARGES K470 Aluminum Shipping and Storage Cases
K470- The Original Since 1950
The ZARGES K470 universal case is a true classic. Introduced in 1950, it is still known for its innovative and ergonomic design and its durable construction. These characteristics made it the foundation on which most of our cases are based and reflect the quality and the decades of experience of the ZARGES logistics team.
The design of the K470 has changed only slightly over almost 80 years, to keep abreast of the latest technological developments. Among the many included features is a lid with stainless steel hinge, snap fasteners, two lid straps, an all-round polyurethane seal, cast-aluminum stacking corners, three fully-welded aluminum profile frames, riveted joints, beading, and corner beads for additional stability, and ergonomic and durable comfort handles that are easy to use, even with gloves.
Our cases can be up to 50% more efficient than competing cases due to the advantages provided by aluminum. Thinner case walls mean more room for cargo and less weight for the case construction, reducing logistics and shipping costs. ZARGES aluminum cases are lighter and allow for more cargo in the same footprint than comparably sized chipboard or plastic cases.
IP 54 protection is standard, and IP 65 is available, as well as UN Certification for transport of Hazardous Goods. The K470 family of cases are approved for airline transport, both in cargo and, in certain sizes, as a carry-on. In addition, several sizes have been certified Grizzly Bear Resistant by the IGBC. In total, there are 26 standard sizes, and custom fabrication is also available.
Zarges makes no guarantee regarding universal containment of lithium fires and cannot be held liable for property damage or personal injury resulting from a lithium fire.