LITHIUM BATTERY – PORTABLE HAZARD CONTAINMENT
THE OUTER ENCASEMENT IS THE FIRST LINE OF DEFENSE BETWEEN THE CONTENTS AND THE ENVIRONMENT.
Zarges offers a variety of aluminum cases appropriate for the shipping and storage of Lithium and Lithium Ion batteries (Li-Ion) throughout the product lifecycle. We offer a variety of cases suited to the storage and transport of Lithium Ion batteries for all stages of their life, from development to disposal.
BatterySafe™ cases are designed for safe processing and transport of lithium ion batteries. ZARGES' solutions are comprised of aluminum cases with different linings of materials that can suppress ignition and contain heat. BatterySafe cases offer all the available features of our standard K470 cases, including secure latches, stacking corners, three fully-welded aluminum profile frames, and easy loading and unloading. The cases are appropriate for a variety of uses including for defense contractors standardizing battery management, vehicle battery development, medical equipment, power tools, electronics, and drones.
PEACE OF MIND YOU CAN COUNT ON. PROTECTION YOU CAN TRUST

ALUMINUM CASES FOR SHIPPING AND STORING DEVELOPMENTAL, DEFECTIVE AND DAMAGED BATTERIES
- Fire Suppression
- Shock and vibration mitigation
- Filtration of gases
- Ease of loading/unloading
- Packaging Customization
- Thermal Management
- UN Hazmat Certified
-Aircraft Grade Aluminum Construction
- Standard Sizes and Quick Ship Options
- Custom Foam Inserts
- Custom Finishes and Colors
- Custom Configurations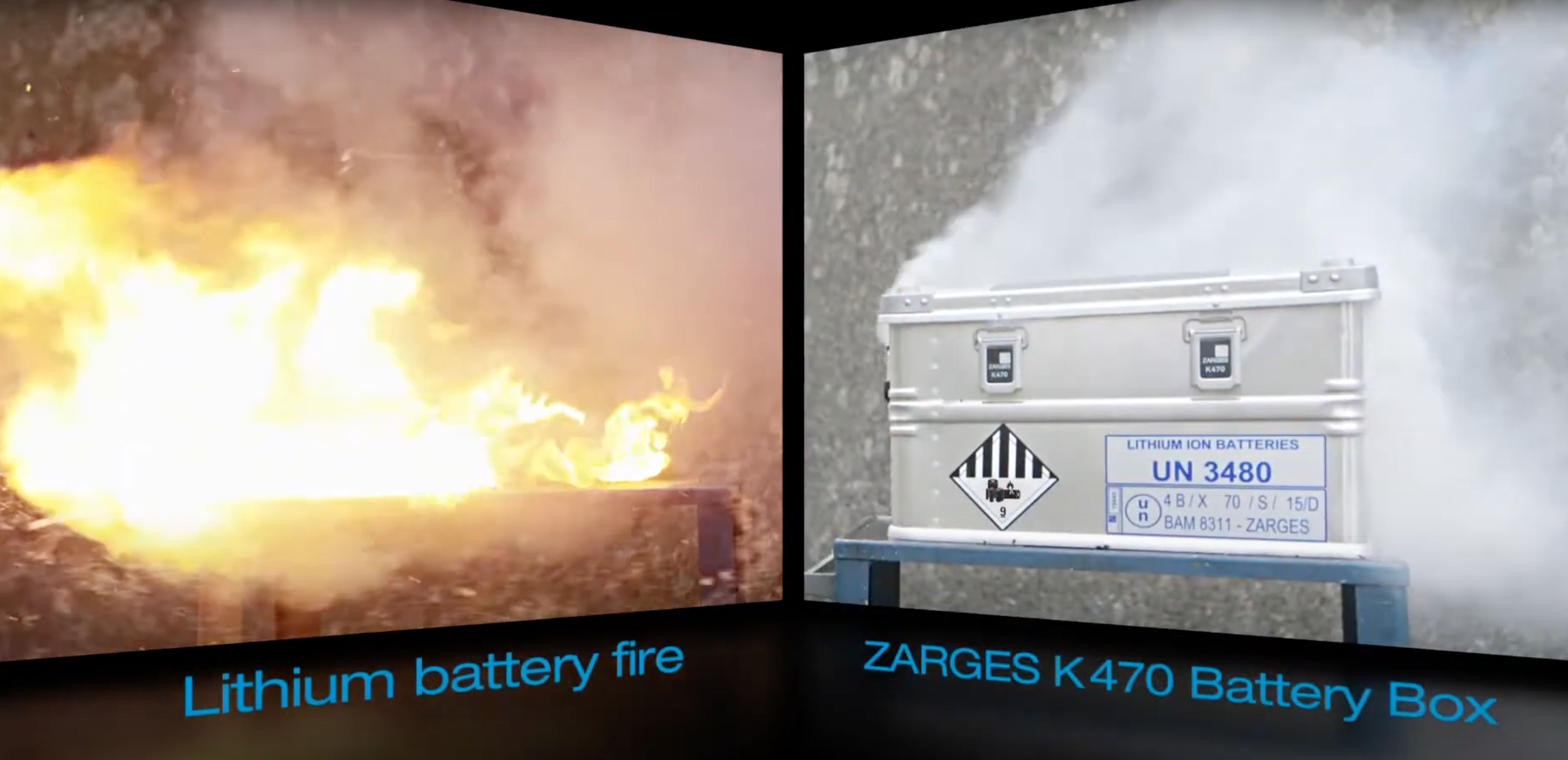 Storage & transport of damaged or broken batteries.

Safe transport and storage of lithium batteries? Xander explains!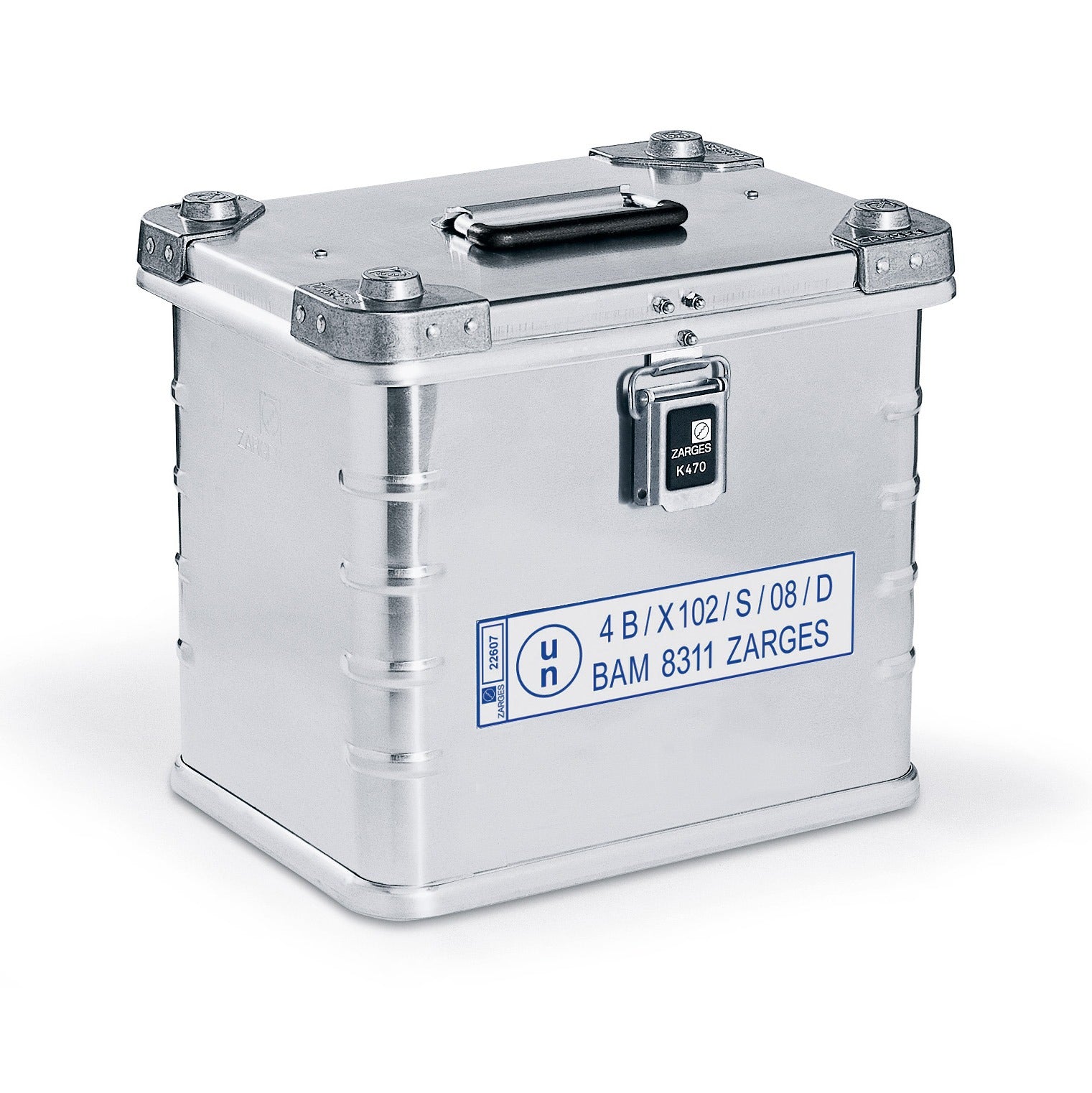 ZARGES BATTERYSAFE™
- Fire Resistant anti-stat foam
- Available in all K470 sizes
- Quick Ship Available
* at 100% state of charge.
- Intumescent glass fiber fire-retardant anti-stat lining and cushioning
- Six standard sizes, custom sizing available
- Custom Configurations for Higher Wh Batteries
- Passed Fire Test with Three 500 Wh Lithium Batteries:

Fire completely contained and filteredNo thermal runaway, ajacent cells protectedExterior temperature remains below 215°F
* at 100% state of charge.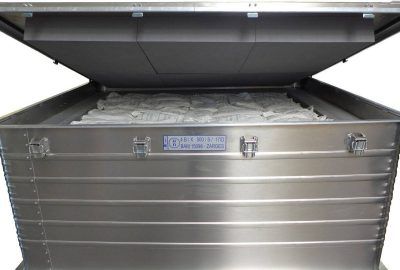 CUSTOM LITHIUM ION BATTERY TRANSIT AND STORAGE SOLUTIONS
Zarges specializes in custom solutions, from small power tool batteries to large truck / bus batteries.
Call on the Zarges team to configure the right solution for your safe battery storage. To begin custom configuration, please fill out the Lithium Battery Questionnaire.
LITHIUM BATTERY TRANSPORT
Since 2016, IATA regulations dictate that both Li-Ion and Lithium batteries are prohibited on cargo aircraft without proper packaging and equipment, and forbidden from transport as cargo on passenger aircraft. They may be carried in the cabin in approved containers.
For secure transport, batteries must be shipped at a state of charge of 30% or less of total capacity, securely individually packaged to prevent accidental discharge or short circuits from terminals touching, and contained within strong, rigid outer packaging. The contents must be clearly labeled on the outer packaging.
For the most current guidance on safe & legal transport of hazardous materials and lithium batteries, please refer to the FAA Safe Cargo website.
LITHIUM ION BATTERY STORAGE
Lithium Ion batteries should be stored with a partial charge of 40%, which keeps the cells inside from going into sleep mode. They should be recharged periodically to prevent damage. Batteries should be protected from extreme temperatures; ideal storage temperature is about 60°F (15°C). Individual batteries should be aligned in a way that prevents any contact between terminals or potential short-circuits. They should also be kept dry and secure from moisture or vapor that may generate condensation that could cause corrosion. Zarges
makes no guarantee regarding universal containment of lithium fires and cannot
be held liable for property damage or personal injury resulting from a lithium
fire.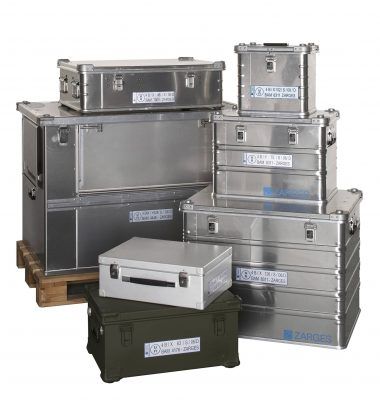 Zarges aluminum cases are engineered with high-strength impact-resistant aluminum alloy. The cases are available with custom foam liners, inserts and finishes. We can also assist with the following:
Information on regulations and laws.
Advice on the classification of hazardous goods.
Recommendations for suitable interior and exterior packaging (incl. padding/padding material).