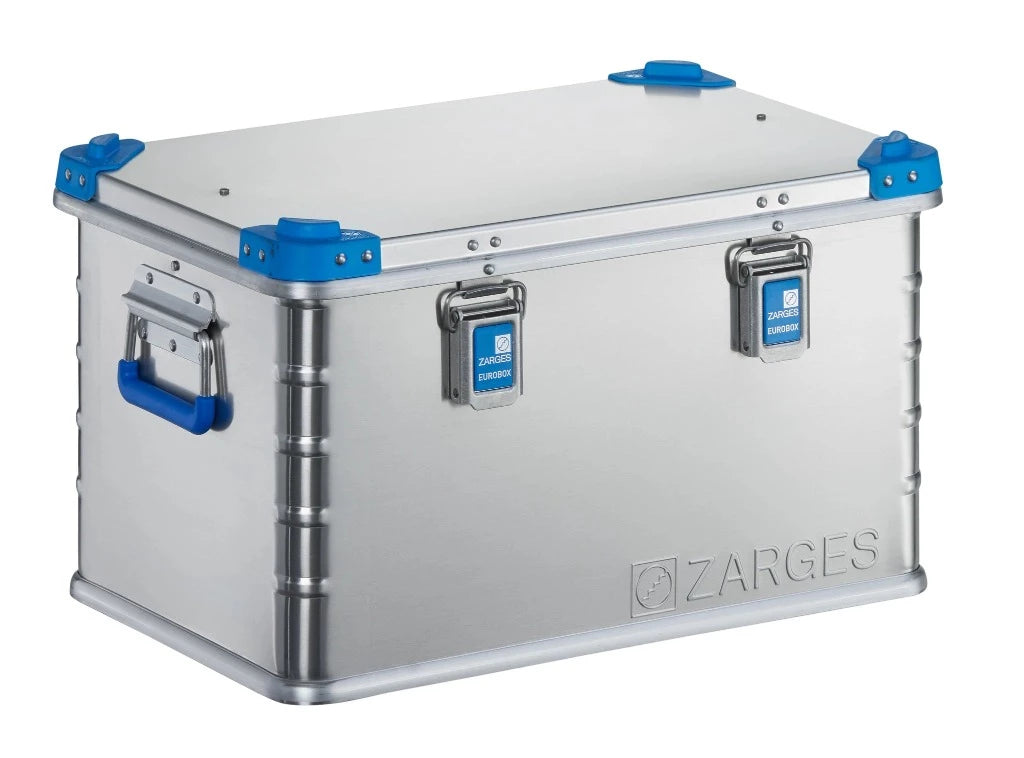 K440 - 40702
Internal Dimensions: 21.65 X 13.78 X 12.21
External Dimensions: 22.95 X 15.28 X 13.26
Clearance Dimensions: 20.63 X 12.76
Volume: 3643.0 IN3
Weight: 10.8 lb
The ZARGES K440 medium-duty aluminum shipping and storage case is sturdy, lightweight and ready for whatever task you need. The distinctive blue stacking corners allow safe and secure stacking, and the case is sized to match DIN 15141 pallets. Available in nine standard sizes, each K440 case includes corner beading, welded aluminum sections, a stainless steel hinge, a continuous lid seal and two sturdy lid straps.

Nine standard sizes
Aluminum lid with stainless steel hinge and continuous seal
Fitted with two sturdy lid holding straps
Blue stacking corners made from impact-resistant plastic for safe stacking
Edge, lid and base profile frames made of fully welded aluminum sections, profile-section joints fully welded
Ergonomic heavy-duty sprung drop handles for loads up to 110 lbs.
Corrosion resistant
ZARGES K440 Medium Duty Aluminum Shipping and Storage Case
The ZARGES K440 medium-duty aluminum shipping and storage case can be customized to almost any use or need. Available in nine standard sizes with more than a dozen accessories, the K440 solves almost any packing, storage and transport need you may have. If that isn't enough, custom sizes, foam lining and other modifications are available by request. Other accessories include dividers, pouches and fittings for organizing your case interior, locks and seals for additional security, and dollies and casters for improved mobility.
The case lid features a durable stainless steel hinge with two lid holding straps, a polyurethane seal to resist dust and moisture, blue impact-resistant plastic stacking corners, and snap fasteners for easy access to the contents. The case is formed from solid aluminum profile sections, with fully welded joints and corner beads for additional strength and stability. The K440 aluminum case is easy to stack and comes in sizes to match DIN 15141 pallet dimensions. Not available with UN Certification for Hazardous Material Transport.
The K440 is the best choice for medium duty use. ZARGES' customers have used them as bike trailers and motorcycle panniers; for arctic and desert exploration; for satellite and electronic equipment transport; for musical, photography and video equipment; for manual and powered tools; and for many other tasks.
ZARGES K440 Applications:
Hobbyists
Industry and Manufacturing
Military, Aerospace and Government
Photography and Video
Satellites
Sales and Trades
ZARGES K440 General Features:
Stackable aluminum universal case
Corner beads for additional dimensional stability
Snap fasteners. Can be secured with a plug lock, lead seals, spring anti-opening feature or a padlock (max. shackle thickness 6 mm)
Matched to pallet dimensions according to DIN 15141
Special Notes:

Clearance dimensions approx. 1.2 inches less than inside dimensions.